STRENGTH THROUGH STANDARDS AND TRAINING

As members of CEDIA you know that we are committed to continuous professional development. We have achieved the high standards that CEDIA requires for membership which helps us maintain and improve our professionalism.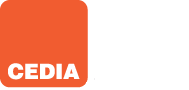 SOUND DECISIONS -

CEDIA

MEMBER
Further information about this membership can be obtained at: www.cedia.net

CEDIA is an international not-for-profit trade association of companies based in
Indianapolis, Indiana that specialize in designing and installing electronic systems 
for the home.

Founded in September 1989, the association has over 3,500 members who are established and insured businesses worldwide with bona fide qualifications and experience in this specialized field.

Controlled by its members, who annually elect officers and board members, CEDIA's members can be found throughout the globe. A map of the CEDIA zones can be found online at www.cedia.net.

To find residential electronic systems contractors throughout the world, use the free CEDIA Finder Service here.